Links to Selected Writing or Event Coverage by Miriam Berkley
The 25th Annual Lambda Literary Awards - June 3, 2013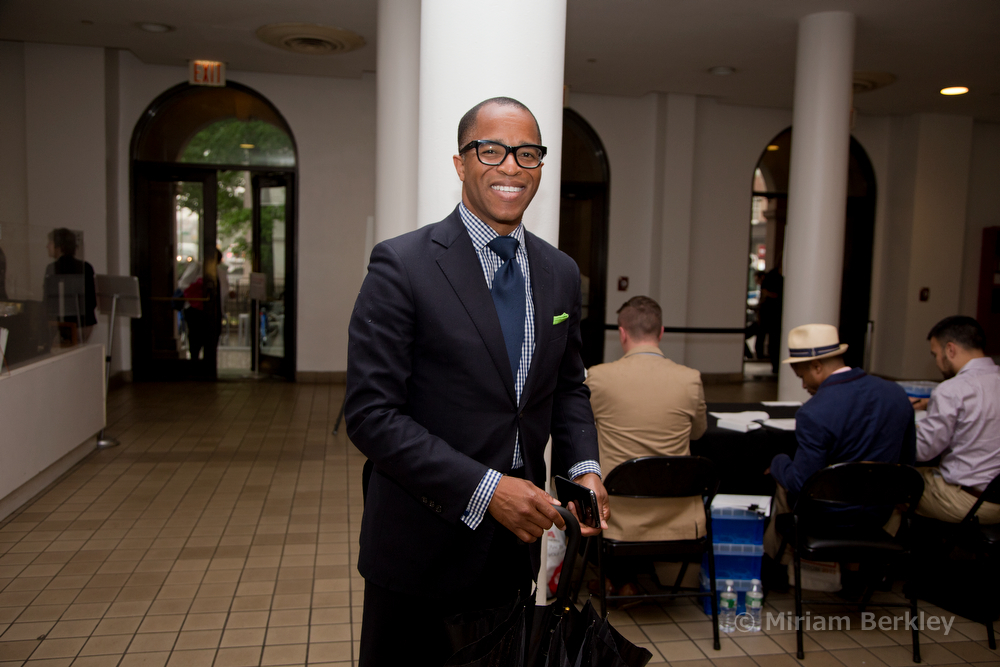 On a rainy late afternoon, Jonathan Capehart, journalist (at the The Washington Post) and commentator for MSNBC, who will present an award tonight, checks in at Cooper Union.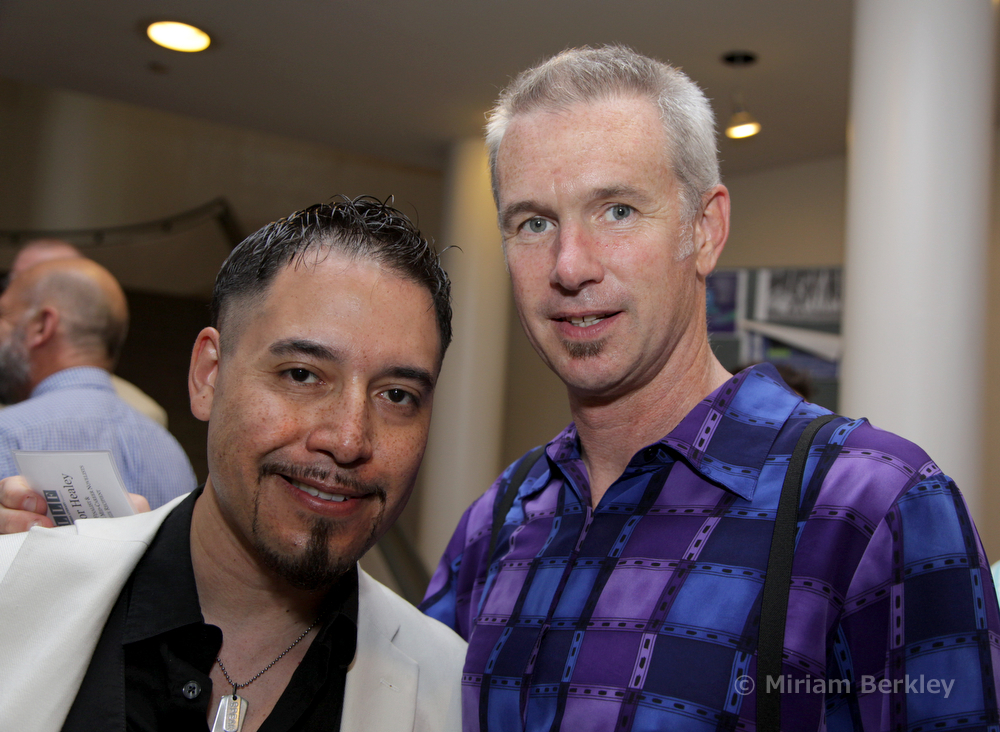 Trebor Healey, poet and fiction writer, was honored for mid-career excellence, and was a nominee in the category "Gay General Fiction" for his novel A HORSE NAMED SORROW (University of Wisconsin Press). Beside him in the entryway to Cooper Union is Emanuel Xavier, poet, spoken word artist, novelist, editor, and activist, whose most recent book of poetry is IF JESUS WERE GAY.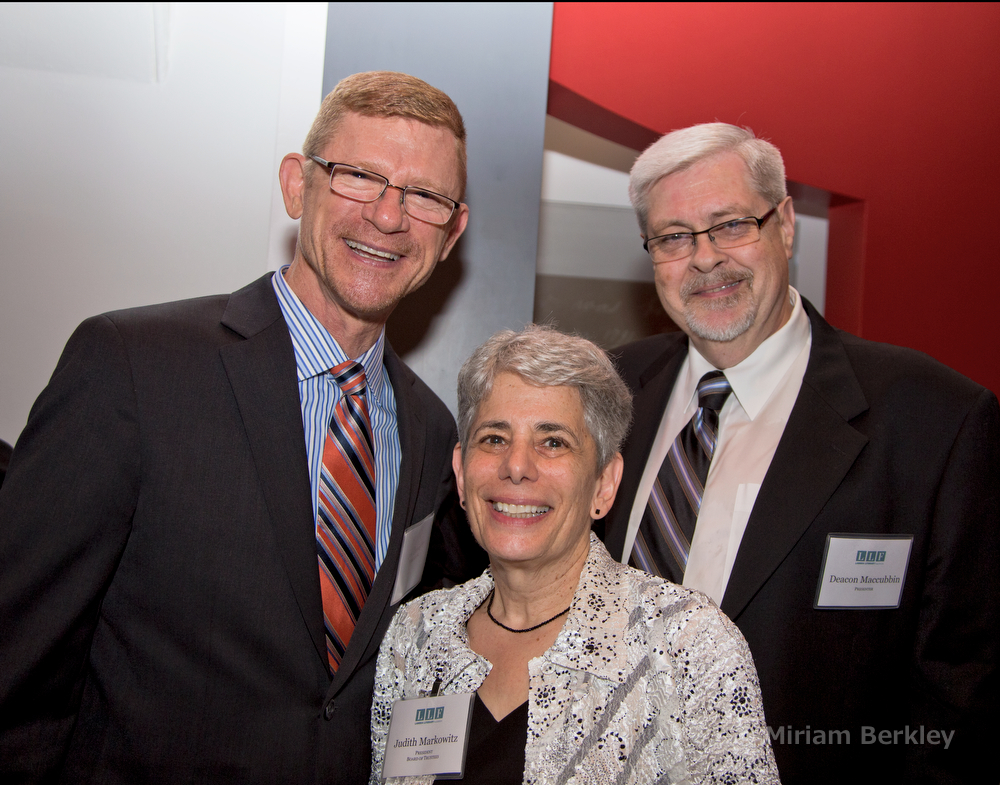 Jim Bennett (l.) and Deacon Maccubbin, founders of Lambda Rising Bookstore and of the Lambda Literary Foundation, stand with Judith Markowitz, Past President of the Lambda Literary Foundation Board of Trustees, during the pre-Awards ceremony reception.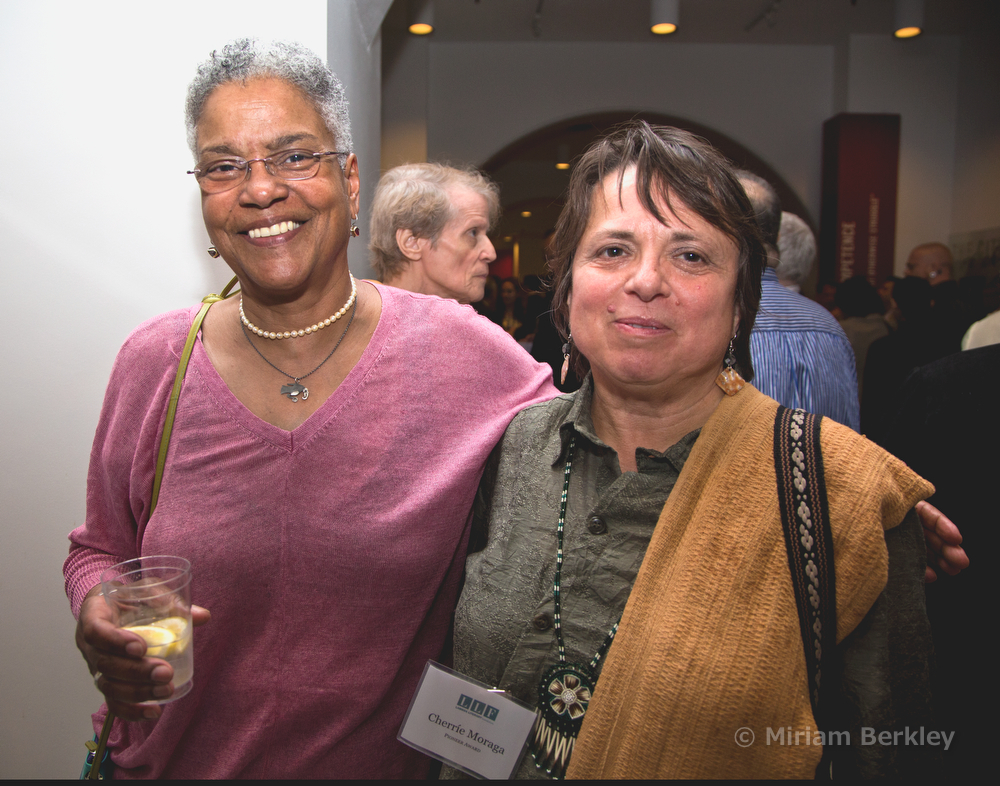 Poet and longtime Rutgers Professor Cheryl Clark talks with Cherríe Moraga, one of the evening's three honorees during the pre-Awards reception outside Cooper Union's Great Hall. Moraga, Chicana writer, activist, poet, essayist, and playwright, in an impassioned acceptance speech during the Awards ceremony for her Pioneer Award, took issue with the word "Pioneer," hoping some historically acceptable substitute could be found for it.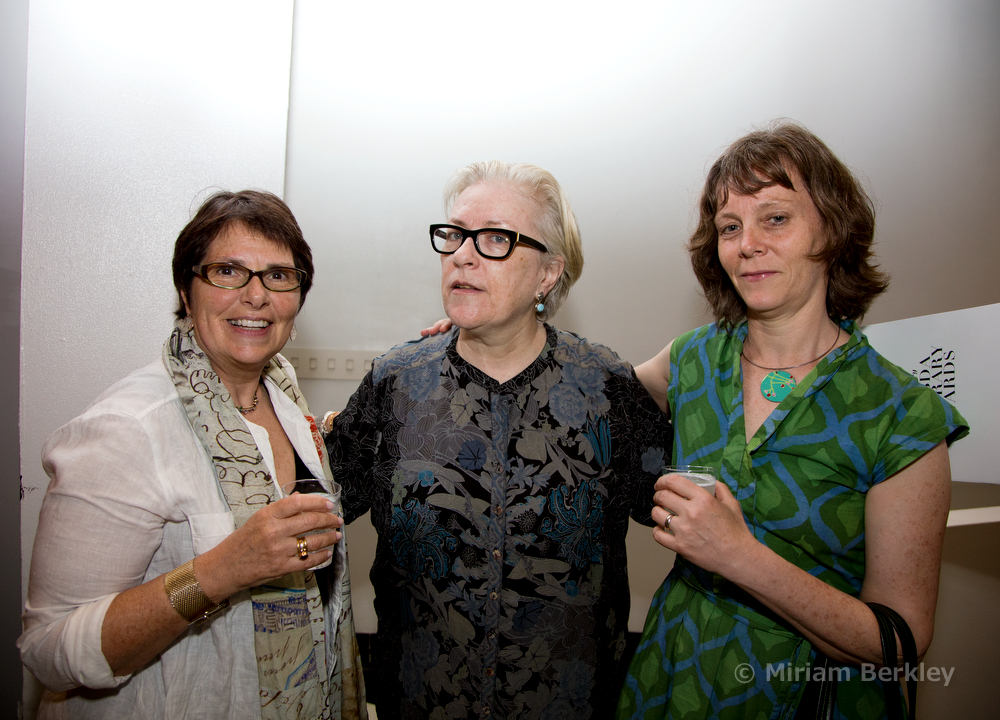 At the pre-Lambda Awards reception writer Cynthia Carr poses with Joy Harris, her literary agent and Kathy Belden, her editor at Bloomsbury. Carr was nominated for a Lambda Award in "Gay Memoir/Biiography" for FIRE IN THE BELLY, about the artist/AIDS activist David Wojnarowicz. The book won the Lammy.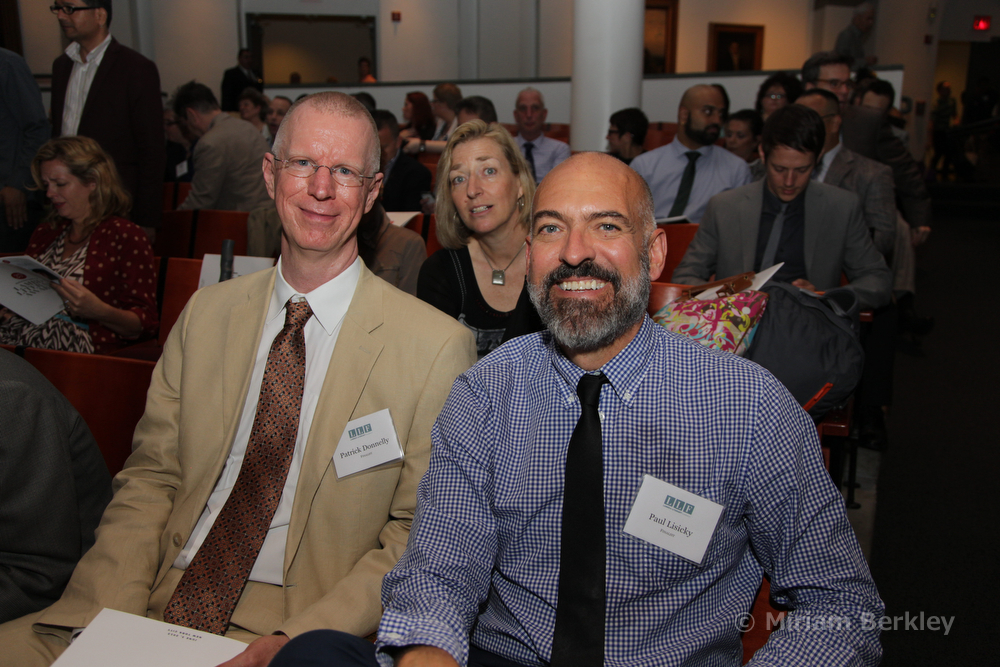 Seated awaiting the beginning of the awards ceremony are Poetry Finalist Patrick Donnelly (l), for NOCTURNES OF THE BROTHEL OF RUIN, (Four Way Books), and Fiction Finalist Paul Lisicky, author of UNBUILT PROJECTS (Four Way Books).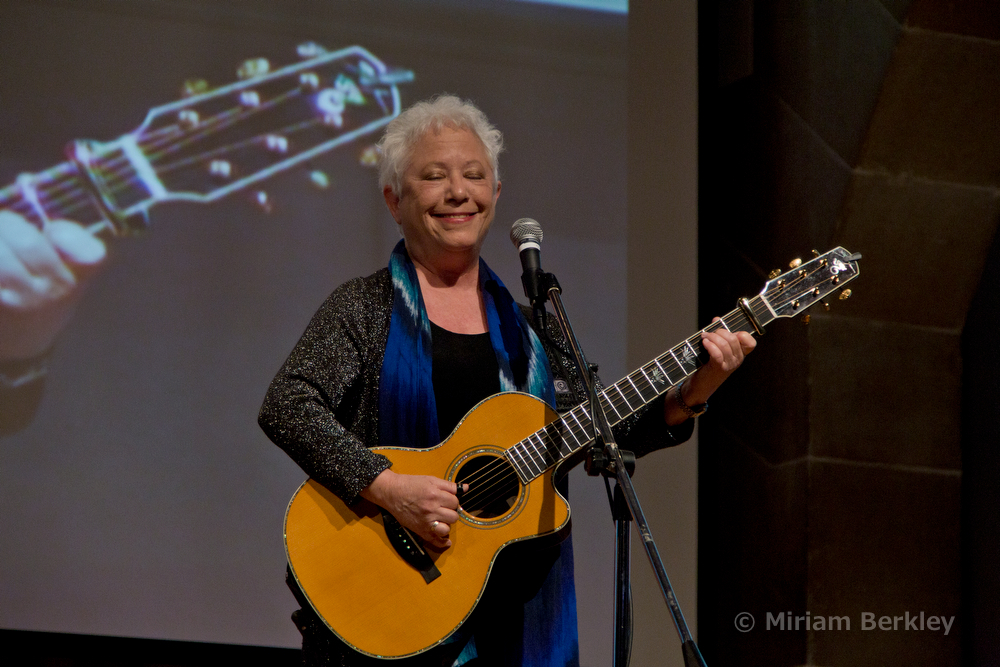 Janis Ian in a brief appearance, which garnered two standing ovations, during the 25th Annual Lambda Literary Awards. Ian performed what has become her signature song, "At Seventeen," and spoke about marriage and sang a funny song about identity - married? living in sin? - when one travels throughout a world where each country and state has its own marriage equality laws.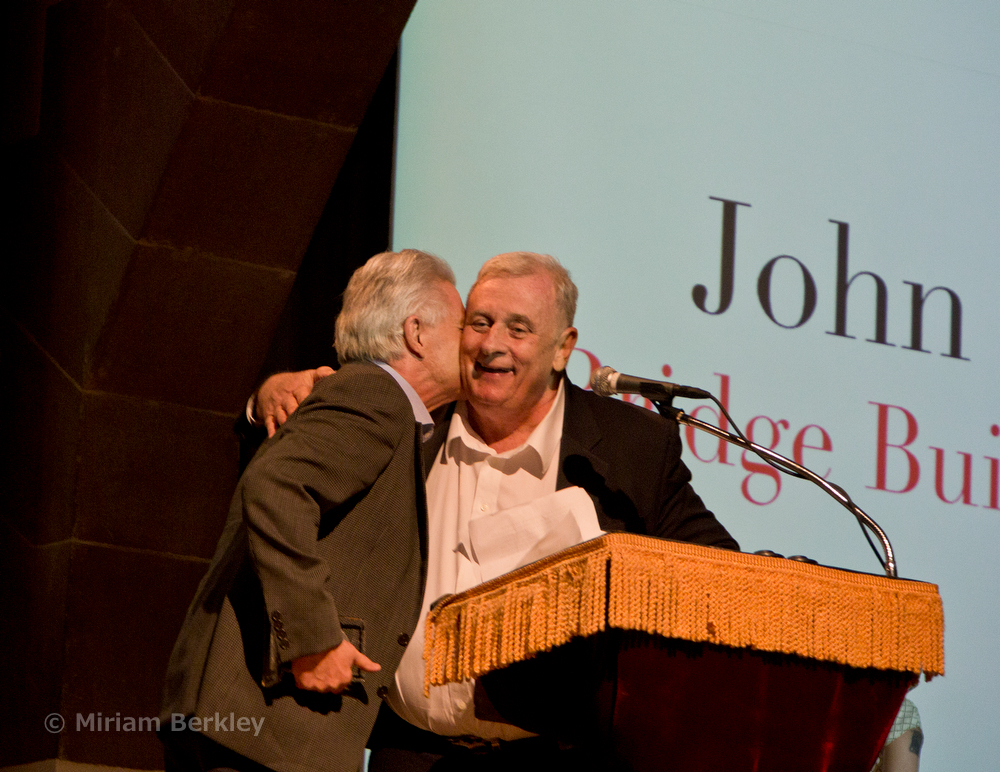 Novelist John Irving gives Edmund White a friendly kiss before accepting his "Bridge Builder" Lammy. Irving also shared an award for "Best Bisexual Literature" for his novel IN ONE PERSON (Simon and Schuster).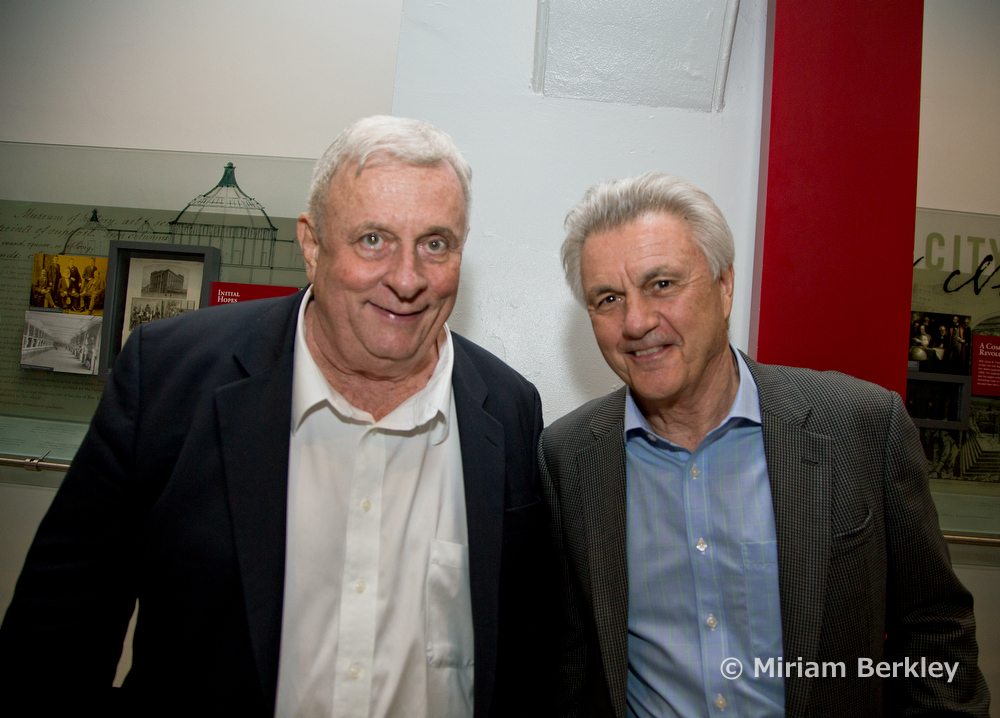 Novelists John Irving and Edmund White are good friends. Here they are following the Lambda Awards, at which White presented Irving with the "Bridge Builder" Award.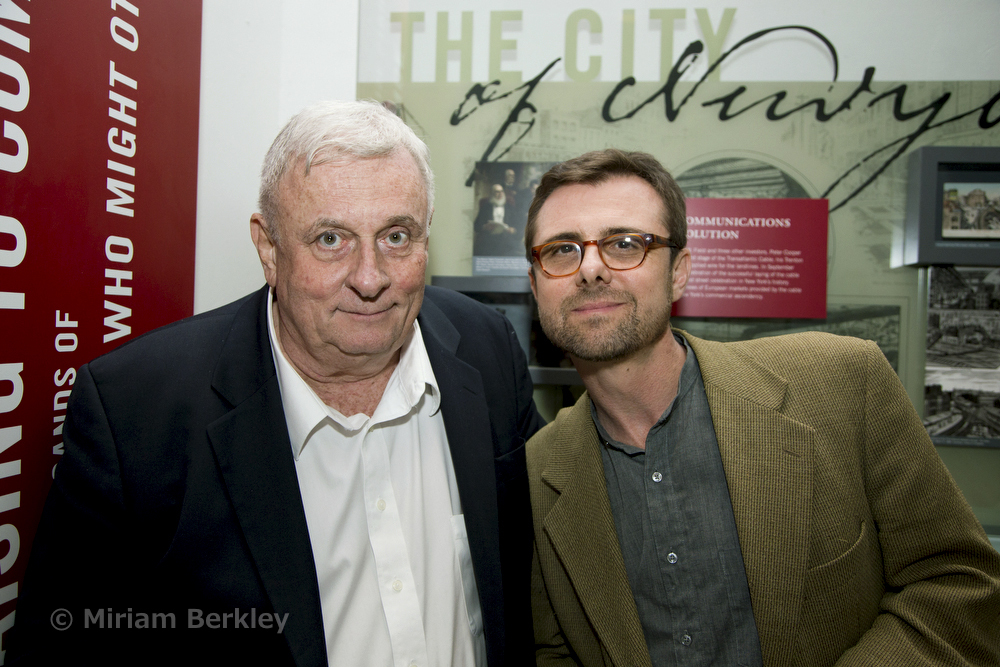 Novelist Edmund White and his longtime partner, writer Michael Carroll.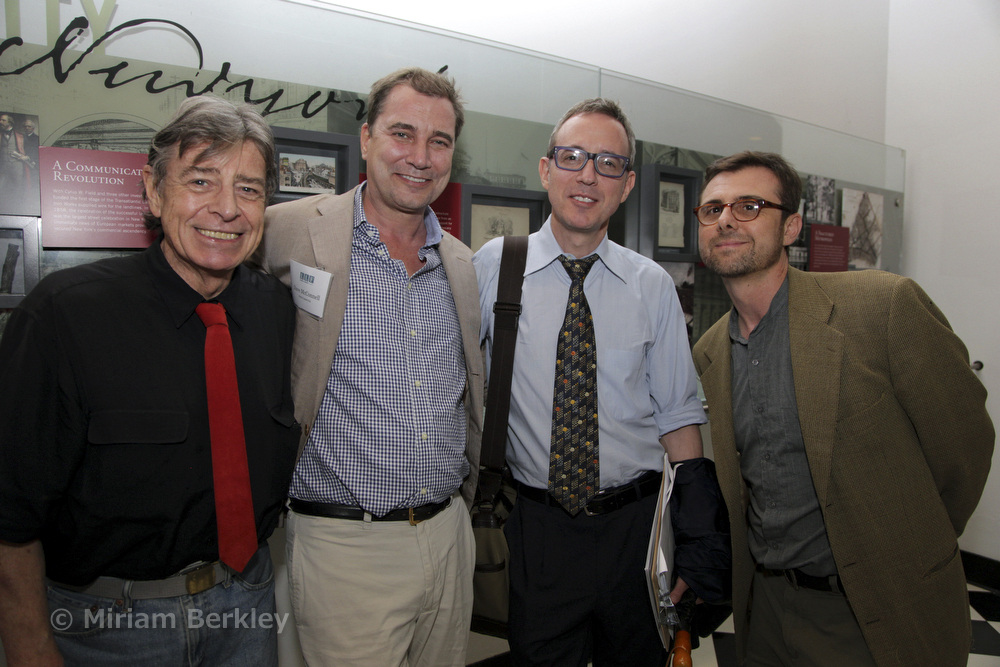 Following the Lambda Awards: Editor Michael Denneny; novelist and non-fiction author David McConnell, novelist and short story writer as well as a Granta Editor Patrick Ryan; and writer Michael Carroll.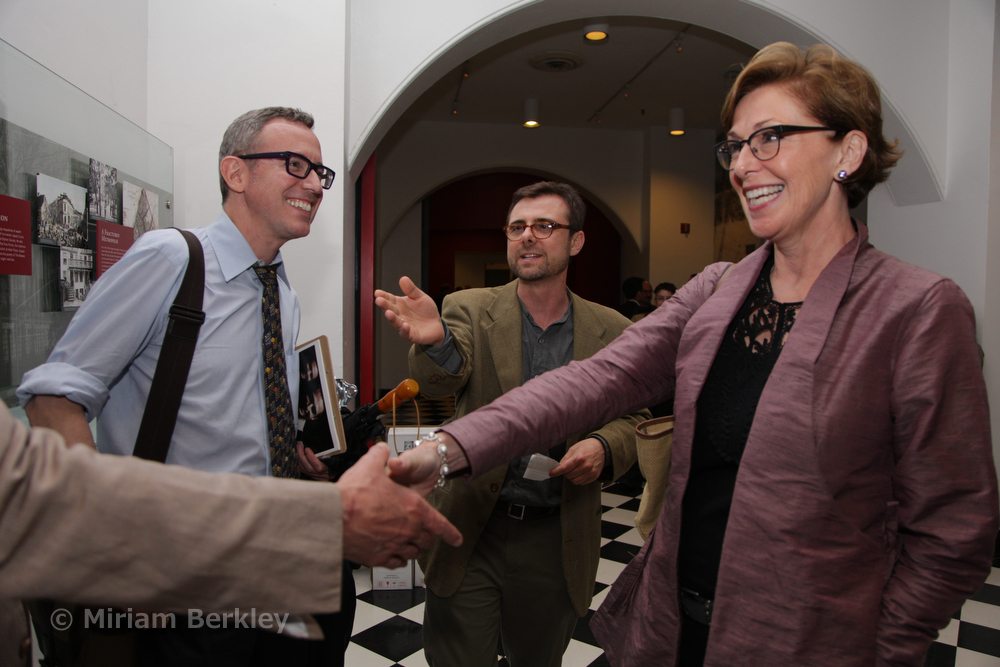 Janet Irving, wife of novelist John Irving and his literary agent, extends her hand to an unseen David McConnell, while writer Michael Carroll makes the introduction and writer Patrick Ryan, who is also a Granta editor, looks on.
A brief write-up and photographs of a 2013 talk with Ang Lee, Director and Producer of LIFE OF PI, sponsored by the Asian Heritage Network of the New York Times Company .

In 1972 Heinrich Boll received the Nobel Prize for Literature, the first German to do so since Thomas Mann nearly half a century before. The Nobel Committee giving the award, lauded Boll`s ``renewal of German literature in the post-war era,`` while the writer, accepting it, said, ``This honor is not for me, but for the language in which I express myself and the country whose citizen I am.`` Both recognized that the award had political overtones extending beyond a single man`s achievement. In fact, Heinrich Boll was only one--albeit, with Gunter Grass, the most prominent--among a number of authors who grew to adulthood under Naziism and, in the years immediately following the war`s end, undertook to make their language, grossly distorted by a perverted regime, once again fit for literary use. These writers called themselves Group 47, after the year their alliance was formed, and the Nobel Prize, given a quarter of a century later, was a measure of their success.

The literary output of Heinrich Boll, who died last June at 67, was diverse and voluminous and consisted of stories ranging from a few pages long to novella-length, novels, essays, radio plays, translations (with his wife, Annemarie Cech) and poetry. It is, however, with his fiction that his reputation primarily lies. ``The Stories of Heinrich Boll`` is a thick tome that contains his best and most famous stories, including three superb early war novels. Nearly all of the work here reflects the Catholic humanist background of the artist`s middle-class Cologne youth--his parents were pacifists and liberals; his childhood, despite the harshness of the era, a happy one--as well as his own mature experiences and observations.

Drafted into the army in 1939, Boll spent six years as a conscript, during which he was stationed on both the western and eastern fronts, was wounded four times, deserted twice, and finally, toward the end of the war, was, not unhappily, taken prisoner by the Americans. The three short war novels here--``A Soldier`s Legacy`` (1947), ``The Train Was on Time`` (1949) and ``And Where Were You, Adam?`` (1951)--each has a protagonist (or, in the case of ``A Soldier`s Legacy,`` two protagonists), about the age Boll was as a soldier, who disbelieves the official party line, expresses in words, and sometimes by flouting regulations, his criticism of the war, and yet accepts as inexorable the meaningless death in it he sees as his fate. Never does the author suggest that war brings glory--or anything but misery and sorrow. In``A Soldier`s Legacy,`` the young narrator, Heinrich Wenk, says, ``A soldier`s goodbye is always, as it were, a goodbye forever. Think of that massive, insane load of pain hauled across Europe by those leave-trains!``, while Andreas, the central character in ``The Train Was On Time,`` thinks,
``There were the people I despised and loathed and mentally abused, for instance, like the man who said: `Practically speaking, practically speaking, we`ve already won the war`; I hated that man too, but I forced myself to pray for him because he was such a fool.``
In these novellas, as in the short stories, women are sympathetically portrayed as providers of emotional support and comfort and as soul mates
(Boll himself married in mid-war and wrote daily letters to his wife). The love object is rarely appropriate--in one case, she is a young whore who services soldiers, in another a Jew soon to perish--and in each case the affair ends in tragedy. In ``The Train Was on Time,`` Andreas barters--a not atypical transaction in a world where living is expensive but life is cheap --his watch, overcoat and paybook for a final chaste hour with Olina, a prostitute met in a brothel just before he goes to face his destiny.
The stories here, written over a period of three decades (and presented, irritatingly, without dates). Many are very fine. All are imbued with sympathy for the ordinary citizen--soldier or civilian--controlled by forces larger than himself, as well as with an appreciation for the essentials and simplicities of life--a crust of bread in a hungry man`s mouth is ``like a dry caress,`` church window frames are ``touchingly whitewashed.`` For hypocrites and cheats--quartermasters who steal soldiers` food, gentry who rob their peasants--Boll has no patience at all, nor does the bureaucrat or totalitarian avoid his scathing pen. ``My Sad Face`` is a marvelous satire of a regime which dictates the expressions on one`s countenance, while ``Murke`s Collected Silences,`` one of his classic tales, about an engineer who must excise the word ``God`` from a demagogue`s speeches, mocks the varying winds of ideological correctness.
``The Stories of Heinrich Boll,`` with more than 60 stories, one-fifth of them translated into English for the first time, one-third never before in book form, shows many aspects of this consummate storyteller who was also, from all evidence, a remarkable man. The stories are set in Germany but extend in import beyond one nation`s boundaries. Readers of this volume should have no doubt that Heinrich Boll well deserved his Nobel Prize.



Southern Women. By Lois Battle. (St. Martin's, $14.95.) In Southern Women, Lois Battle, author of the best seller 'War Brides, depicts three generations of Southern women represented by the female line of a prominent Savannah family. Eunnonia Grace Hampton, known as Nonnie, is matriarch of the clan; over 70 when widowhood permits her her first real independence, she is now, at 83, a vital force in local real estate and a woman of enlightened social views. Lucille Hampton Simpkins, her youngest daughter, has devoted her life to cultivating those traditional feminine charms that only fleetingly satisfy her vanity and leave her vulnerable at 50 to a consummate roué. Lucille's daughter, Cordy, 30, wants more from life than her marital bed can provide, and has become a romance novelist. The book begins when Cordy, after leaving Chicago and her husband, returns home to Savannah. Soon she has the chance to spend a month or more alone in New York, and Nonnie urges her, ''Do somethin' better. An' for more money.'' By the end, several months and 300 pages later, Cordy has both done and become something better. She's coped with loneliness in Manhattan; she's completed and sold an ambitious work of biography; she's divorced her husband and entered a mutually respectful relationship with the man who has always loved her. There are elements of soap opera here, as well as a clear feminist theme - simply, fulfillment comes from being one's own person, not someone else's. But Southern Women goes beyond genre fiction or tract. Written with insight, it has a large, well-drawn cast of characters that makes it both absorbing and convincing.
- Miriam Berkley
This interview, about my evolution as a literary photographer, was published in both the July and October 2008 issues of Quill magazine, and is published on line in its entirety.